A – B – C – D – E – F – G – H – I – J – K – L – M – N – Q – R – S – T – U – V – W – X – Y – Z
A
B
C
D
E
F
G
H
I
J
K
L
M
N
O
P
Q
R
S
Sgt Pilot Robert Jean-Baptiste Edmond Stenuit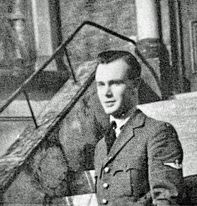 Born 2nd September 1921
Died 22nd October 1943
1299844, 605 Sqdn., Royal Air Force Volunteer Reserve
At 03:41 on 22nd October 1943 a Mosquito V1, UP/Q took off from RAF Bradwell Bay piloted by Sgt. Stenuit from Belgium with his Canadian Navigator/Observer F/Sgt McEwen to patrol Poix, Abbeville and Amiens. The aircraft crashed on take-off and both crewmen were killed instantly.[1] According to biography of Daphne Dangerfield the aircraft burst into flames.
Although they had a definite mission to accomplish the details of work carried out states that the mission was Operational Training.[2]
The RAF Bradwell ORB Summary of events state:
1 Patrol, Poix, Abbeville and Amiens crashed on take-off just off the airfield killing Sgt Stenuit (Bel) and F/Sgt McEwen (Can), again the cause is unknown.[3]
It was 14°C, windy and raining heavily in Essex – Found online but I would rather have more authoritative info, including windspeed and direction.
AIR 20/3327
Aircraft accidents: investigation and prevention 1943 Sept.-1945 July
---
[1] The National Archives London (TNA) AIR 27/2090/19
[2] TNA AIR 27/2020/20
[3] TNA AIR 28/105
T
U
V
W
X
Y
Z